Book early discount on season tickets
Publicerad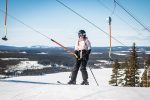 Despite August and green lawns... Surely you too have thought about snow, winter and downhill skiing!?
At least we have! We can't wait any longer and have started selling season tickets for Tjamstanalready!
Take the chance to buy a season pass on the slopes before November!
10% on all season tickets purchased digitally. Valid until the end of October.