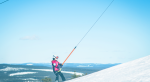 Experience Tjamstan in winter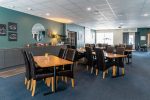 Lunch of the day
OBS! Week 52 no lunch will be served. Between 10.30-13.00 we serve a buffet lunch with salad, beverage and coffee for 99 SEK. Welcome to us at Hotel Tjamstan!
Veckomeny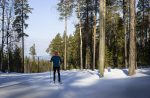 Skiing for all
You are in a unique natural environment, perfect for cross-country skiing. Here in Malå municipality there are well prepared and illuminated ski trails directly adjacent to the hotel. We can also offer commissioned touring trails and lake trails that can be easily reached by ski, on foot or by car.
Read more

What's Tjamstan?
Tjamstan is the mountain in the middle of Malå. A mountain and an area for adventure, sports and outdoor activities all year round. MTB, hiking and running in summer and alpine, snowmobile and cross-country skiing in winter. Tjamstan consists of Hotel Tjamstan with 47 hotel rooms, 15 cottages, hostels, rental accommodation in the old mine lava, over 200 winter camping sites and the Tjamstanbackarna with 4 lifts, ski lifts and 10 slopes.